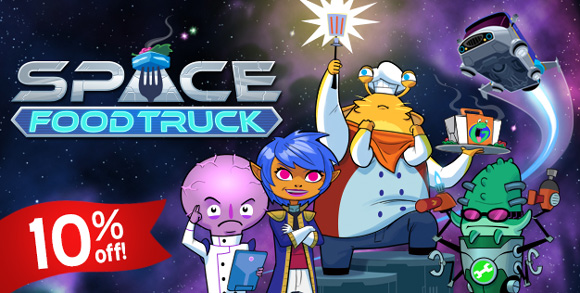 Now through February 12th, Space Food Truck is 10% off for Steam's Lunar New Year sale! We're both very happy for the moon, and we wish it lots of luck with its resolutions.
In case you missed yesterday's stream, you can watch Alex and I take on Space Food Truck's Thai Hot difficulty over on the OML YouTube channel. We're planning to stream another playtest next Friday at 2pm Central, so check it out live on Twitch if you want to ask questions, or catch the rerun afterward on YouTube.
In our weekly SFT update we've restored 1 Power to the Last Resort card in the ZapMart (based on player reaction) and we've finally added multiple customer reviews to the ending. I've been waiting so long to see those in-game! Thanks to everyone for their feedback so far. If you have anything to add, send a message over to bugs at spacefoodtruck.com.
Gameplay
Changed Last Resort cards to 1/0 value based on player feedback.
Add ability to cancel the Gamma Toaster.
Flux Inverter now resets when given to another player if its values have already been inverted.
Improvements
Added a variety of possible review endings from customers in the game over screen.
'Dock Ship' is disabled when initiating a Backtrack to avoid accidental cancellations.
Planet name no longer show up at game start intro, being obscured by ship.
Fixes
Fixed bug where the rare ingredient would be revealed in a Sure Thing arrival event.
Fixed bug where Mark One Off would highlight pirates.
Fixed bug where using a Hall Pass quickly could keep the screen dimmed.
Fixed bug where Mimicube would get stuck if you cancelled the action.
Fixed bug where players couldn't enter inventory/ZapMart in online games when it wasn't their turn.
Fixed some grammatical typos in crisis resolution texts.
Fixed bug where Flux Inverter wouldn't reset if somehow discarded and then re-drawn on the same turn.
Fixed bug where gamma toasted cards would go into your discard pod without destroying themselves.