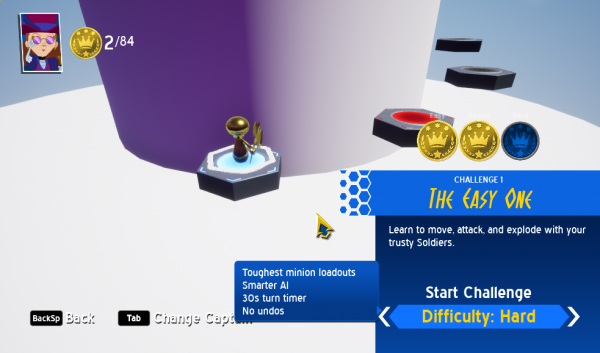 Just popping in to show my progress on the campaign. You'll be ascending a tower of challenges, and I've got all the unlocking levels and content stuff sorted out. Should have a build next month with some challenges for our beta testers to try out!
Beating levels on easy, normal, and hard awards you the different medallions, which unlock captains and multiplayer maps for you to use. Don't worry, you'll be able to unlock it all by clearing the game on Normal! Hard mode is just there for the completionists.
Pushing a quick fix today: the player handicap limit will scale with your VP to Win setting, and fixing a bug where handicaps were invisible in-game. You can give up to half the game's "VP to Win" goal as a head start for any player.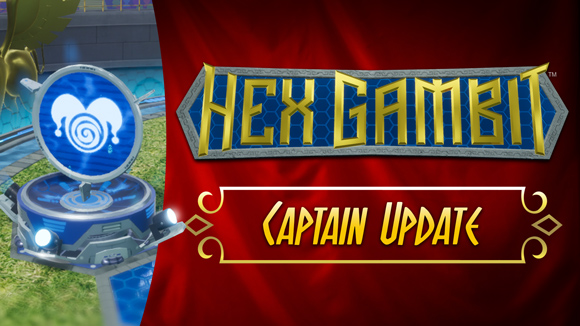 Some fixes for Hex Gambit's multiplayer are coming online today before we dive full time into single player. It'll be a few weeks before our attention returns to the multiplayer side of things, but we'll have some neat bots to fight when we reach the other side!
The biggest change launching today: our cheaper Captain Ultimates will now recharge for a second use! We've also tweaked some costs to balance for this change. As far as the current Captain roster is concerned, this is good news for Bjorgolf and Penny Miser but bad news for Lolli, whose bonus cost went up.
So ults that cost 4VP or less can now be triggered multiple times if your opponent lands on certain scores. But savvy opponents can block those extra uses if they avoid ending their turns with certain VP amounts. It won't turn the metagame on its head, but it provides some flexibility for future Captain additions and gives us a neat tool for the single player mode.
Here's a full rundown of what's new today:
Captain Ultimates are now rechargeable, and we've taken a pass on some of their VP costs. More on that above.
Added some audio for the Pacifist
Tweaked some audio for the Sniper
Captain voice-overs have been adjusted to be less chatty when a lot of VP is earned.
Fixed replay functionality for the Pacify special
The Pacifist's Donate move had an issue on the server side, but now works as expected.
Fixed a bug with Pillars having shields