My icon sketches this time around were pretty sloppy, so here are the rough mockups for our top three. The far right design doesn't really work for an app icon, but as a loading screen it's looking pretty slick.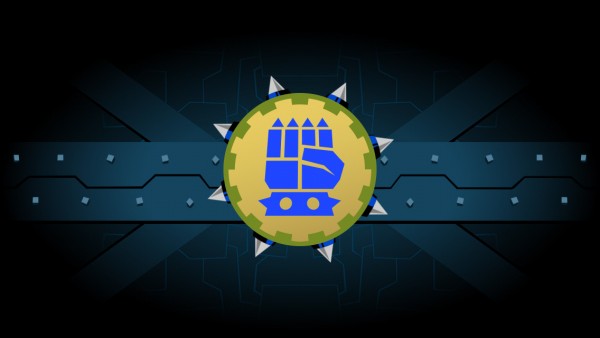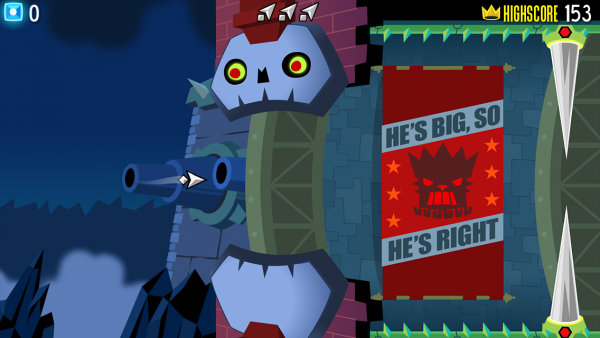 We won't spoil the final level for you, but this is the entrance to the Dot Bot Fortress (along with some Dot King propaganda).
At the end of last week we put the finishing touches on all four of Gauntlet's courses. Our litmus test for it being ready was to beat the entire game on hard mode, where you die in one hit and have to be perfect. I managed to finish everything but our final boss, who I got down to two hits but couldn't quite finish off. That is the last, great challenge in the game, so we figure he's about right.
So now, in the final stretch, we squish bugs, create marketing materials, dot i's, and cross t's. Trailer, screenshots, press releases, store description… There's a lot left to do, but we can see the light at the end of the tunnel. We're looking at you, October.
Here's a glimpse at one of Arropolis's unique features: zap traps. With good timing, you can destroy any enemy in the level using one of these zappers. In the case of that little pest chasing you, it's the only way to get him off your back.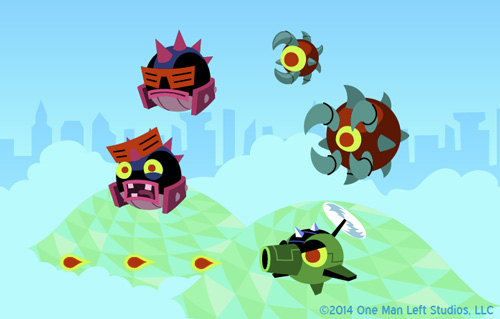 My sketches are becoming increasingly rushed and unpresentable as our deadline creeps up, so here's some vector mockups for the Arropolis bad guys. Diversifying enemy types and obstacles poses an interesting challenge in a game where all you do is tilt, but I think we've done a good job making each new enemy feel like a unique challenge. Hopefully we'll have time to fit all of these guys into the level!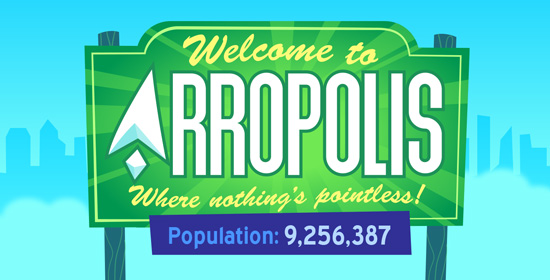 Here's the concept for our fourth gauntlet, Arropolis: home of the arrows. That population will be steadily ticking down, or course.
This last gauntlet is meant to be wrapped up by the end of the month, leaving us one more month to tweak difficulty, discuss the mechanics, and generally tidy things up. The game will have 3 gauntlets for you to attack out of the box, plus an unlockable final encounter at the Dot Bot Fortress once you've proven yourself to be awesome.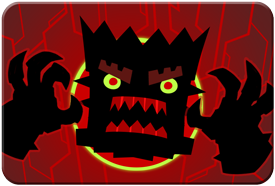 So we're in our fourth month of development, with nearly three gauntlets to show for it. The unlockable final gauntlet we're finishing up now (which we haven't shown you) contains a 3-stage final boss fight that a LOT of love has gone into. The Dot King showdown is something we'd considered putting in Tilt to Live 2 as part of a boss gauntlet mode, but that mode was not meant to be. I am proud to say that he will be your final test in Gauntlet's Revenge.
We moved the boss level up in production so we'd definitely have time to make it as cool as possible. There's still one more gauntlet to design before the bulk of Gauntlet's Revenge is done. Our September/October release goal still looks good.
Here's a clip from the Pointonium Mines where we cross a checkpoint and dispatch a couple of bat dot bots. We don't have their death SQUEE yet, so you'll have to imagine your own for now. Each Gauntlet is broken up by two checkpoints and a finish line, where a bonus round rains death and pointonium upon you in equal measure.
Based on current projections, it looks like we're shooting for a September/October release. If you'd like to try joining the beta we just started, click here.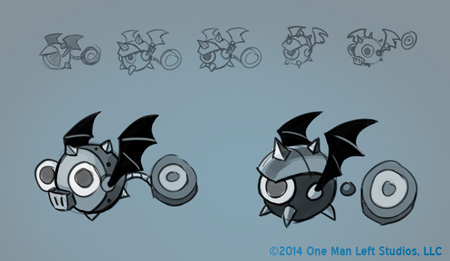 A new enemy for the Pointonium Mines, the Bat Dot Bot is a fun experiment in micro-boss style enemies. They travel in packs, and you can choose to avoid them or try and get an angle on their target weakpoint. Breaking it will earn you some sweet bonus pointonium and make them go "SQUEEEE".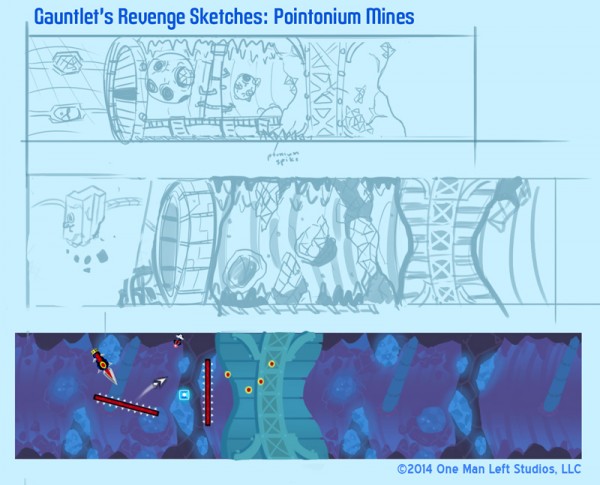 Click to Enlarge
Our first gauntlet, Lockdown, has been polished up pretty nicely. So now we're moving forward with our second, the Pointonium Mines. Pointonium is what we're calling the blue jewels you collect whilst trying not to die, which you may remember from the short Vine we posted last week.
Obstacles in the Pointonium Mines are designed to feel very different from Lockdown. Lockdown has a lot of smashing, skewering, and bullet dodging, while in the mines you'll be dealing with falling boulders, sweeping lasers, and bat dot bots.
We don't have enough ready for a trailer (there's not even any sound effects yet), but we did put together this peek at one of the game's gauntlets.