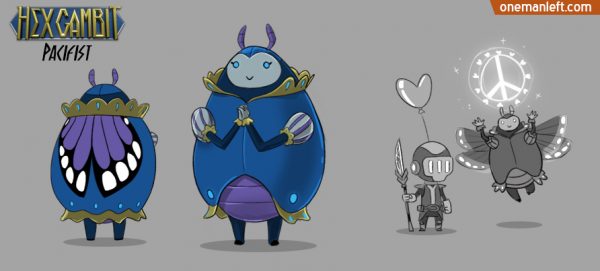 Our final minion to add during Early Access will be an alternative support character to the Motivator called the Pacifist. I guess "alternative" is the wrong word… you could put together a team with both! She's a great addition for fans of Outwitters' Adorables aesthetic, and for players that like "tricky" characters to catch their opponents off guard.
The premise of the Pacifist is to create a useful minion with no capacity to damage your enemies. Her main ability is Pacify, which completely disarms a target for one turn. No attacking, no tapping pillars. This is great for disrupting big plays; just strap a balloon to that Brute's head and deal with him later. She also has a ton of HP, and the ability to donate that health to her allies with Hex Gambit's only healing move! Her third ability is Resonance, which lets her tap crystal pillars for more than the usual 2 VP if you can set things up just right.
Hex Gambit is coming to Kickstarter July 25th! It's a fantastic opportunity to save some money and improve the final game at the same time. If you haven't already, be sure to sign up for our mailing list to get email reminders when we hit big milestones, like the launch of our Kickstarter, Early Access/beta, and the official release.