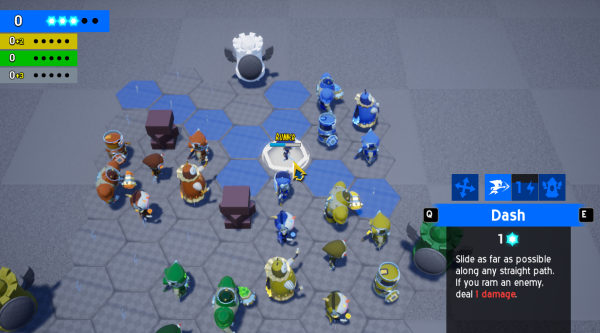 My local multiplayer version of Hex Gambit is actually looking good! I have a system for setting up attack targeting by just filling in a little form (hits 2-5 spaces away, only along straight paths, stuff like that), which is super easy to work with. AP is in, everyone can pillar tap, and undos are working! Today I'm working on unit spawning. Won't be too long before I can actually play Hex Gambit with this thing!
For those of you that got a chance to play the original, here's some differences I'm experimenting with to make things more "local" friendly.
Captains will have an assigned minion loadout, so each player just chooses a captain. I may do a "Custom Match" mode that lets you pick all of your minions like the original, but the new way is much faster to set up, especially for four players.
Custom Match options: you'll eventually be able to tweak how many Action Points you get per turn, how many Undos are allowed per turn, player handicaps and stuff like that to make your own house rules (the yellow numbers next to the team scores in the screenshot above represent that player's handicap).
No locked moves! Cooldowns will be used instead on a per-minion basis. When they spawn, any moves that have a cooldown start in cooldown. You'll have to keep the minion alive long enough to charge their strongest moves.
Multiple maps! I've set things up so that minions can figure out arbitrary layouts.
Setup phase is instant: a handful of your units types will be picked at random and placed on specific "start tiles" as invincible, spawning units. On your team's first turn, they become active and you play like any other turn.
Action Points carry over! You can store up to five and bank what you don't spend for later.
Moving now costs Action Points, and you get less AP each turn. This way, things pass back and forth more quickly to keep everyone engaged.
UI overhaul from the ground up to make things easier to figure out (work in progress).
My hope is that these changes will make things easier to explain to new players and make your matches even more exciting!