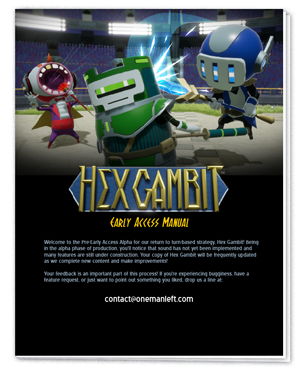 Click here for the Hex Gambit Pre-Early Access instruction manual.
The Pre-Early Access PC alpha of Hex Gambit is nearly upon us! This early peek at the game is exclusively for our Kickstarter PC backers, with download codes going out later today.
While the game is fully playable in Exhibition mode, some features like sound and our tutorial are conspicuously missing. As a workaround for the latter, we've prepared the instruction manual above to get you acquainted with the game's rules and character abilities. Be sure to keep it handy in these early days, as our current interface is a work-in-progress and may not do a fantastic job of explaining things. Expect the game to get better every week on the road to Early Access!
We should also mention that a Pre-Early Access tournament is already being organized, which you can read all about right here.