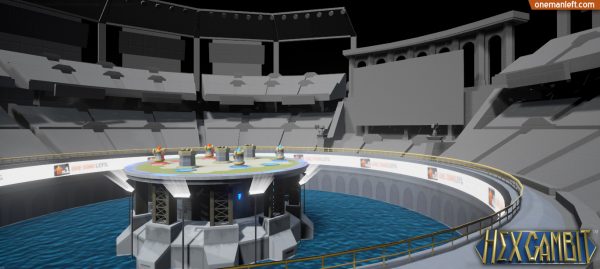 Click to Enlarge.
So we've got our plan laid out for the year, and the pace is going to be pretty grueling considering how new we are to Unreal and 3d games in general. January is my month for blocking in most of the game's arena environment, finishing up our first character's animations, and working out all of the UI. Thankfully, I had a head start on a lot of this artwork at the end of last year. Hopefully by February I'll be free to focus on the meat of the project: character art!
The shot above is a peek at the current state of our untextured arena. It's going to look miles better once the details and lighting get finalized!
I should probably take a second to explain what a Hex Gambit is. In a world called Agon, the Hex Gambit is a wildly popular arena sport where contenders engage in live "battle chess". Each player assumes command of a squad of expendable tin soldiers. Whether you win or lose, your performance will influence a larger metagame, which we'll show off later in development.
Want to know more about our upcoming turn-based strategy game, Hex Gambit? Stick around! We'll be posting lots of artwork and details here weekly. If you haven't already, be sure to sign up for our mailing list to get email reminders when we hit big milestones, like the launch of our Kickstarter, Early Access/beta, and the official release.