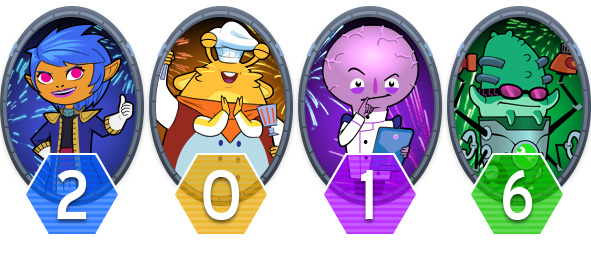 It's just about time to start writing the wrong year on everything again. 2015 was definitely a busy year (I don't think we know any other kind): We made an abundance of working game prototypes. Outwitters came to Android. We were included in our first Humble Bundle, we created our first Kickstarter campaign, and we've got our first Early Access PC release. That's a lot of firsts!
PC development and Early Access have been particularly exciting. On PC we're worrying less about short user sessions and our moms being able to figure the game out, which is liberating. We're also getting great feedback for Space Food Truck from our EA users (keep it coming) that's already helped us identify some changes we'd have overlooked.
Space Food Truck Update
Speaking of Space Food Truck, it's still 10% off a while longer and we've just pushed a quick fix to help with the difficulty. The door repair cost has been reduced back to 1, which sounds like a small change but it has ripple effects all over the place. Keeping the doors operational helps resolve damaging crises and keeps people from being locked out of their rooms, pretty painful stuff if it gets out of hand. Alex and I will be discussing difficulty more in-depth first thing in the new year.
What's ahead for 2016?
Space Food Truck's official big boy PC release is first on our docket. Then we have an idea for an additional gametype we might explore, or we may go right for a tablet port. Or maybe we'll jump straight into Game 6. We have a few turn-based, Outwitters-esque prototypes that are showing a lot of promise. Nothing is decided until it's decided!
Thanks for keeping up with us on the blog, we're nothing without support from fans like you! We wish you all the best in 2016. May your dreams come true and your resolutions be unbroken. Unless you made an unrealistic resolution, in which case we  support your decision to give up. We're not here to judge.