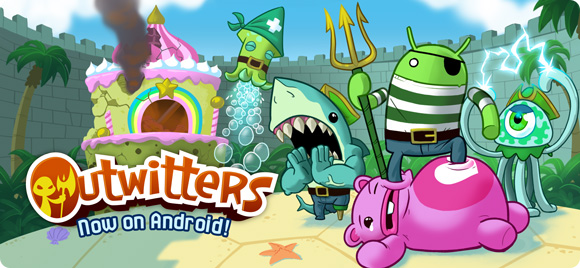 Over the past few months our turn-based strategy game Outwitters has been painstakingly rebuilt, more or less from the ground up. We're proud to announce that it's finally available for Android devices, and can even be played cross-platform with our iOS community! You can grab it right now for free, or read on to learn more.
What's New in 2.0?
Rebuilt from the ground up to support Android & iOS cross play
Faster push notifications allow for 'blitz' play. Your game will refresh as soon as your opponent sends his turn, instead of having to flip back to the main menu.
Minor touch-ups and add-ons to UI, such as viewing your friends' rank before inviting them to a game.
Faster load times and transitions, with higher frame rates smoothing out some animations
What's Outwitters?
For the uninitiated, Outwitters is a quirky turn-based strategy game that asks players to navigate the fog of war, vying for a good angle on their opponent's base. The first player to deal 5 damage to the enemy base wins. Spawning troops, moving around the board, and attacking are all powered by a resource called wits, which you can grab more of by taking control of bonus spaces around the map. It's easy to learn, but there are plenty of complex tactics to master.
What really sets Outwitters apart from other mobile games are the robust league, season, and matchmaking systems. After a few placement matches you'll be assigned a league and placed into a division, where you'll square off against 100 or so worthy opponents for glory. These league rankings are recorded and reshuffled every so often when a new season arrives. It's basically the perfect game for competitive people who like pink teddy bears.