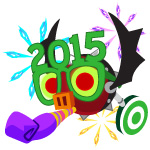 It's been a pretty productive year for One Man Left. The early months saw the Brimstone Pinball DLC come together for Tilt to Live 2, followed shortly by the evolution of Gauntlet's Revenge from DLC to full game. We almost even squeezed in an Android port of Outwitters before New Years caught up with us. We've typically only managed about one game a year, so that's not a bad collection of completed projects.
We really cannot thank you guys enough for supporting us year to year, if you managed a purchase. We've been chugging along full time at this for almost 5 years now, and that is 100% thanks to you.
Looking forward to 2015, I'm really itching to dive into some fresh material. While Alex has been putting together our Android ports, I've been brainstorming and sketching game ideas for about 2 months now. Alex will join me in January for what we have dubbed "prototype month". I don't think we've ever had this many different game ideas to choose from. Come February 1st, we will be ready to make the living crap out of something.
So what can you expect out of One Man Left next year? We're leaning toward smaller projects, which means a faster turn-around for you guys. With any luck, we'll have Game 5 ready around summer time. It'd be great to have two games done in 2015, but that's just a flimsy New Year's resolution at this point. A lot can happen between now and next December 31st. Naturally, we'll be blogging it all right here as it develops.
And holy crap I'm getting married next year.