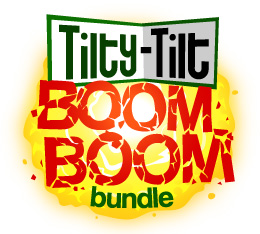 With Tilt to Live: Gauntlet's Revenge released, we now have 3 games in the series. A nice round number. It just feels right to put those three Tilt to Live games together in a bundle, and it feels even more right to call that bundle the Tilt to Live Tilty-Tilt Boom Boom Bundle, coming Thanksgiving Day to the App Store.
November 27th, you can be thankful for accelerometer-powered weaponry, the retry button, and 33% off when you buy Tilt to Live, Tilt to Live 2: Redonkulous, and Tilt to Live: Gauntlet's Revenge in an App Store bundle! If you already own one of those games, the price you paid will automatically be discounted from the bundle price so you can complete your collection. As an added bonus, because the pilgrims told us to, we're dropping the price even further to 44% off if you buy before the end of November.
Unfortunately, the whole bundling thing doesn't provide a way for us to include our DLC gametypes or Tilt to Live HD's Full Version IAP. But you will still get a heck of a lot of savings compared to buying the games individually!
2 responses to "Save a Bundle"