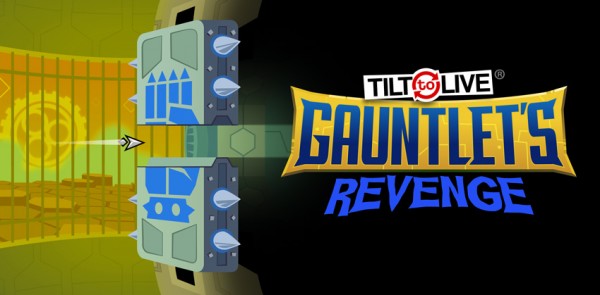 Gauntlet mode first appeared in the original Tilt to Live. Rather than hopping from weapon to weapon, it was about navigating a parade of deadly traps with precision and good timing. It was a fun mode, but there were a few things we wish we'd done better. The difficulty was fairly flat, and the enemy formations lacked variety. We retooled it for Tilt to Live HD as a single screen bullet hell mode, but we always wanted another crack at that "precision endless runner", "tilt platformer" feel.
When it came time to think up a second DLC for Tilt to Live 2, getting a chance to finally do Gauntlet justice was high on our list. Once a few enemies and track pieces were in the prototype, all sorts of interesting ideas came up. What if you could reach some kind of bonus room if you survived long enough? I have a lot of leftover obstacle ideas; what if we did a few different Gauntlets?
Rather than cutting our ideas down to make DLC for Tilt to Live 2, we're running with them in our first Tilt to Live spin-off: Gauntlet's Revenge. Development is already underway for iOS and Android, and we expect to be ready for release later this year. You can keep up with our progress on this blog, or sign up for an email reminder when the game is released.
19 responses to "Announcing Tilt to Live: Gauntlet's Revenge"