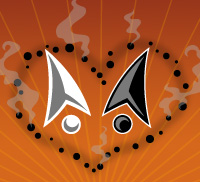 I remember the crushing disappointment when I learned that Tilt to Live's cooperative mode only worked with blue tooth connections. I have only ever had white teeth.
But lo! Through the magic of Game Center, Viva la Coop now features online matchmaking in new updates for both Tilt to Live iPhone and Tilt to Live HD! Just don't try to play HD with your iPhone buddy; they're different games. You can match to random strangers, or invite a Game Center buddy to help out. Bullet points!
Viva la Coop can now be played online via Game Center!
Big fat iPhone 5 display support! See parts of the background you have only dreamed about.
No mic support, so your friends won't hear you yelling at them.
Replaced a few images that have been blurry for like 2 years.
22 responses to "Tilt to Live Lives!"