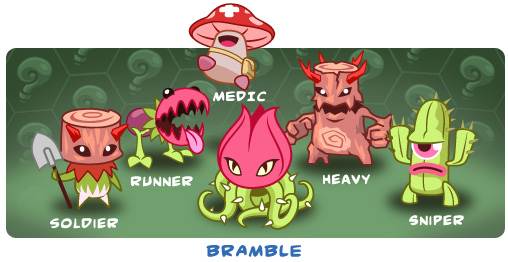 Sorry, New Team Name Guessing thread. It's not the velocipedists. We'll save that idea for a racing game.
In our original Outwitters announcement, we showed off some concept art featuring a weird little plant soldier. He was from a team called the Naturals, which was only ever playable in our paper prototype and never actually made it into the game. For our first big team pack addition, we've resurrected these characters as the Veggienauts.
We call their special unit Bramble, and he has the gift of the green thumb. When rooted down, he grows his own destructible thorn barriers (no spawn tile required). In our first beta build, each barrier he plants will extend his reach. This will allow him to slowly spread his way across the map like a weed, blocking weak spots, capping Bonus Spaces, or providing cover for allies moving up the field. His exact balance and mechanics will be tweaked as we test over the coming weeks, but we aim to put the new team (and its new maps) in your hands sometime late in October. It'll be a freebie for any über pack owners out there.
Stay tuned for more updates, artwork, and hilarious delay announcements.
27 responses to "Meet the Veggienauts"