This Year at OML
The doctors say 2011 likely won't make it past the new year, so with a heavy heart we bid it farewell. We may not have anything to show for it yet, but 2011 was hard work. Outwitters has required a lot of learning. New tech, new work flow, new genre, universal device support… It's no wonder our release estimate was so far off. But we're both really proud of the work in progress, and we can't wait to see the rest of the bells and whistles fall into place.
Our New Years Resolution
The App Store hasn't heard from us in a while, and we aim to change that in 2012. Outwitters should hit the store sometime before the end of March, after which we have a few content updates planned.  Hopefully by year's end we'll be neck-deep in some kind of Game III, maybe even releasing it.
Thanks for keeping tabs on us this year. Don't drink and drive, and we'll see you guys in 2012 WITH ACTUAL GAME CONTENT FOR YOU TO PLAY.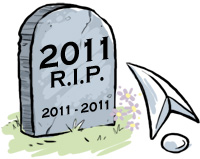 5 responses to "Requiem for a 2011"