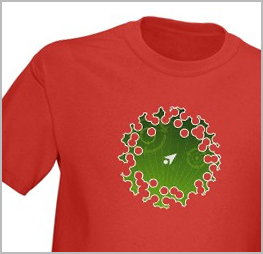 Maybe it's just because we made the game, but Alex and I have been dorking out for a week or so about Tilt to Live merch. We auditioned Cafepress.com as a provider (primarily with Game II in mind), and what we've ordered has come back pretty cool. Plus, their return policy is more than reasonable if you don't like your item.
So at long last, you can express your enthusiasm for Tilt to Live with an Overrun tee (pictured), or a super-high quality poster print. I think my favorites are the Caffeine Blast mug and the Pointillism print, which looks really nice in a frame in my office.
Fifteen lucky winners from the mailing list are getting free posters, so keep an eye out for that email today, and tell us where to send it!
I'll have some cool stuff to show from Game II next week. Fun fact: we do have a name picked out already, we just can't start using it until we're finished tying up the rights. Don't wanna jinx it.
9 responses to "Tilt to Live Store Arrives"