Game II was announced pretty fast and loose. Not a lot of details on gameplay, because the game doesn't actually exist yet. But we're all about keeping you guys informed, and we can answer some of the questions we've heard so far.
Q: But One Man Left, I don't like strategy games :(.

Let me start by saying this game will be free to try out (like Tilt to Live HD), and we're designing it to be something anybody would like, not just strategy aficionados.
The goal of the project is to boil the usual strategy experience down to what's most fun about it, in our opinion. We're tweaking some of the conventions, and eliminating tedium where we find it. The phrase "I don't usually like this type of game, but…" has already come up in testing, which is definitely what we're aiming for. How do we know if we're on the right track? We're recruiting testers that don't like strategy games AND testers that love them, and we're listening. And then we're thinking really hard.
Q: What do you do in the game?
This may change, but right now: You start with a small army, a base to protect, and some "wits": the resource you use to move and fight.  You'll be using wits to add more men to your army, beat up your opponents, and ultimately destroy their base. Pretty easy to wrap your head around, right? It's not hard to play at all, just tough to win.
There are six different units to choose from, and all cost the same amount of wits to spawn. The trick is recruiting the right men for the job, then getting through your opponent's defenses.
Q: Will it have a single player campaign?
Nothing is set in stone, yet. Fighting AI in Monopoly is lame, so we're leaning heavily toward player vs. player matches. Our goal is to have the online matchmaking work so well that you won't ever need to play alone. And if you like who you're matched with, you can continue to challenge them by name.
Next time:
We'll introduce you guys to the Feedback, our robot race. Below is some concept art. They don't actually have herbicide in the game, for obvious balancing reasons.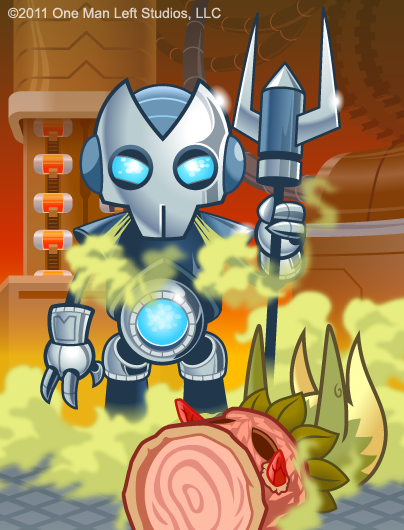 23 responses to "Game II Effaykew"