So Tilt to Live Easter was an April Fools joke, and we apologize to anyone who got super psyched about the Resurrection feature. Today is April 2nd, and this is the real deal.
I'd like to start by saying that we love Tilt to Live, and there's still a long list of update ideas we could try. This is probably not the last you'll see of the old arrow n' dots, but let's give it a rest for now. We feel a need to demonstrate to ourselves and the world that we are no one-trick pony. We want to be such a tricky pony!
In that spirit: Game II is a multiplayer-focused, turn-based strategy game for everyone. "For everyone" means that you won't have to play a 25 minute tutorial before you can start having fun. There aren't 30 buttons onscreen, there's no dialogue to skip, and you don't have to be a space marine. Turn-based meaning you can play a match all in one sitting, or back and forth at your convenience like Words with Friends.
The prototype is literally just being finished, so not a ton of details feature-wise yet. We're definitely going for local and online multiplayer (with matchmaking), so you can have fun with a friend or with a Stranger Danger. You'll have a number of races to choose from, each with a unique advantage on the battlefield. Below are some characters concepts for the Plant and Cuddly teams ("for everyone" also means there's a cuddly team).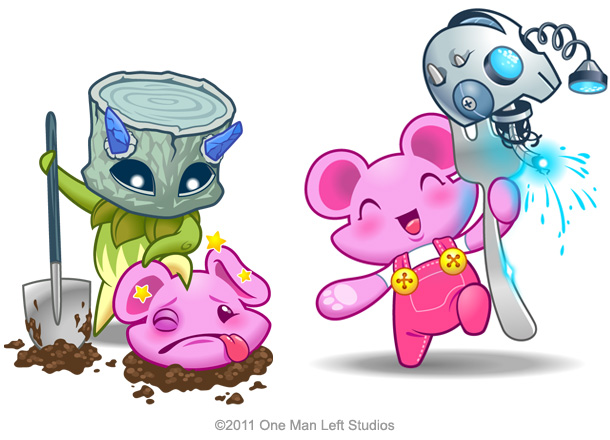 Also pictured: a severed head from the Robot team. Production for Game II is now in full swing, and it will be ready for release later this year on iPhone, iPod Touch, & iPad.
Whether it will be two apps or universal has yet to be determined. We'll continue blogging this weekly-ish with additional artwork and updates on our progress.
31 responses to "And Now for Something Completely Different"