We got the following email recently from a serviceman in the Israeli army:
"hey there, first of all, i want to thank you for making, hands down, the best iPhone game i have ever played.  Tilt To Live is the only game i was ever able to justify spending money for, and it was worth every penny. I serve in the Israeli army, and i work with a team of people who are all obsessed (thanks to me) with tilt to live. i catch my commander playing on my iPhone all the time, and its a known running joke that our whole office is addicted. Tilt To Live is probably responsible for countless wasted work hours, and its only tolerated because the game is so awesome.  the reason i am writing is because i am (finally) finishing my army service next week, and i really wanted to give my team a going away present that was somehow related to Tilt To Live.  is there any way that i can acquire a poster or something related to the game?  i think that that would be the most appropriate present to get them, and believe it or not, that probably how ill be most remembered anyway (i hold the current record).  any help would be greatly appreciated. keep up the good work!  JON"
We decided to indulge his request for two reasons: (1) I happened to have ideas for Jew-themed weapons, and (2) you do not say no to people with guns. Below, the poster for a fantasy spin-off.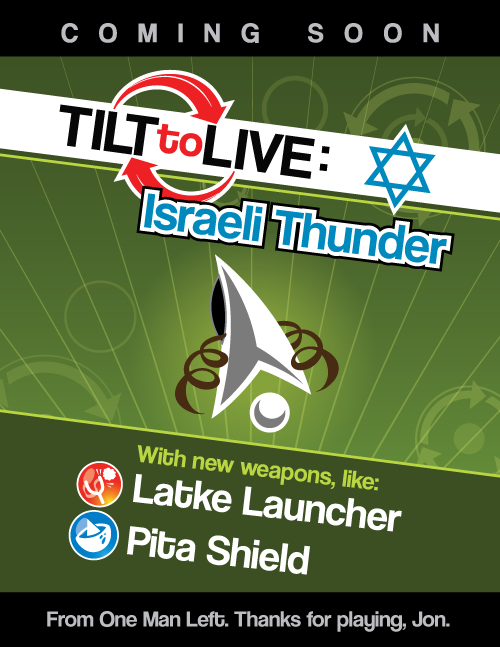 35 responses to "Tilt to Live: Israeli Thunder"