Tilt to Live HD's ¡Viva la Turret! expansion has come together at last. It's a 99¢ In-App Purchase for those who already own the Full Version, just like its little brother was. For demo users, the Full Version IAP will be going up to $4.99 USD, and will now include Viva la Turret right off the bat (to simplify things). At face value the gametype feels pretty similar to the iPhone version, but you'll notice some important gameplay differences as you're swiveling for survival.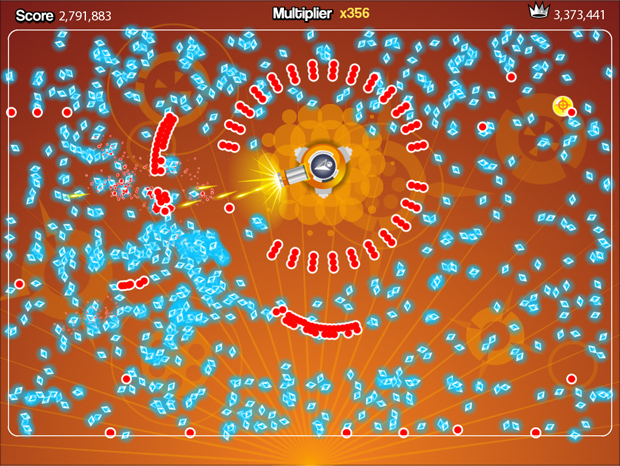 The walls are farther apart.
Big deal, right? Right! Assuming you were not being sarcastic. You may not realize it, but a lot of dots in the iPhone version die from being smashed against the walls by the Perforator's shockwave. In HD, depending on your turret's position, a lot of that smashing isn't going to happen. What will happen is you'll push the same dots back again and again, and they'll start closing in faster and faster.
The jewels are farther apart.
How long does it take you to make a trip around your iPhone screen? Not long, so it's not unheard of to collect every jewel you create. The HD arena is about 4x the size, so you'll find it much riskier to be OCD with your jewel collecting. More often than not, you'll have to learn to let go.
Get to da Perforatah!
Developing Turrets HD, we noticed the extra screen real estate made being outside the turret feel a bit too safe. To spice things up, we've added a cruel new wave that only appears when you're unarmed. It's guaranteed to make you forget your jewels and run for the nearest weapon.
We're submitting the update to Apple tonight, so you can expect ¡Viva la Turret! to reach your iPad before the end of the month.
29 responses to "Honey, I Blew Up the Turrets"