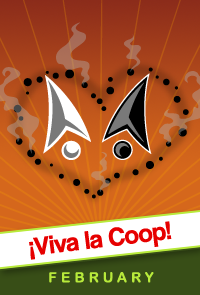 Having sent iPad's Viva la Turret off for approval, we were once again faced with our favorite dilemma: what's next? Artwork and concepts for Game II have been piling up since March of last year. But in the volumes of never-realized ideas for Tilt to Live, one has persistently tugged at our heartstrings: cooperative play. Before we move on, we just gotta.
February 24th is TtL's first birthday, and what better present is there for our game-child than two player Viva la Turret? None, and don't tell us how to raise our kid.
Why Viva la Turret? It works more naturally as a two-player game than the other modes. One of you will man the Perforator, defending your imperiled teammate as he grabs jewels and brings you fresh pickups. All of the rules and dot behaviors are being redone to accommodate two players, so expect a fresh remix of familiar Viva elements.
Coop (nearby/offline only) will be a free update for anyone who's purchased the Viva la Turret Expansion. The iPhone version is about 60% complete, and should be released around the end of next month.
30 responses to "Got Friends?"