After a month of teasing and delaying, it's finally time to share the details of Tilt to Live's upcoming Frostbite update. This is all still in development, so the specifics are being tweaked and balanced as I write this post, but here's the big picture:
Frostbite Mode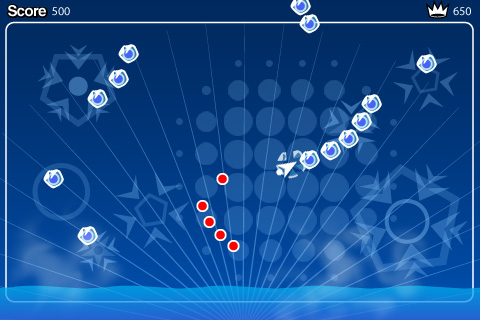 This new gametype will transport you to a winter wonderland. One where all the dots rain pre-frozen from the heavens, gift-wrapped and ready to die. Because in Frostbite land every day is Christmas, or Hanukkah, or Muslim Christmas. But here's the catch: Those frozen dots are falling towards that steamy hot spring at your feet. If my high school education serves me: frozen dot + steamy hot spring = thawed dot! And in an arena marred by an unfortunate weapon shortage, thawed dots spell big trouble. Looks like you've got some thorough shattering to do.
Luckily, a weapon shortage is not a weapon drought. And the pickup we're tossing you every-so-often just happens to be the perfect safety net for a dot blizzard.
Meet the Burnicade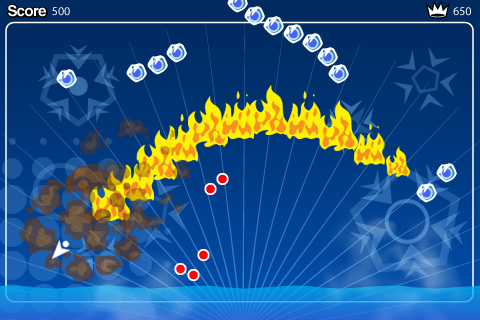 Intuitively enough, the new burnicade pickup will engulf your cursor in a burst of hellish flames, launching you across the arena in a blaze of glory. But the real payoff is the barricade of burning justice you'll leave in your wake. This fire is deadly to dots, but not to you, because we think there are already quite enough things trying to kill you.
As you can imagine, the burnicade will be a rare sigh of relief in Frostbite mode. And because it's built into the rules of that gametype, this weapon will be available in Frostbite from the moment you update/install the game. If you want to play with fire in Classic or Code Red, though, we suggest you work on your AGON PocketScore. The burnicade will be the next unlockable weapon beyond the Lightning shield.
And that's the news, boys and girls. Frostbite and the burnicade will be giving your iDevice hot flashes in July.
25 responses to "Frostbite in July = Irony"