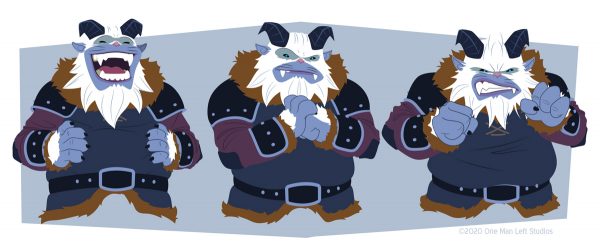 Still procrastinating on capturing video, so here's new captain artwork for Bjorgolf! Hoping to get happy/sad emotes in for each captain, whenever I get around to implementing them.
Been converting things from using a single controller to supporting any number of them or AI, which was completely foreign to me and more complicated than expected. But now it works! You can add up to 4 controllers and share them between players however you want.
On AI turns, my little fetal AI just waits 3 seconds and passes the turn back to you. Next I'll teach it how to kill. Our old Hex Gambit AI used to get stuck in logical loops or think too hard or something… It had a tendency to just kinda stare at you and time out. I'm aiming for something faster and more responsive this time.
All of this is working towards some kind of PC alpha demo for our Kickstarter backers in the near future. There won't be a lot of content in this first build, but there will be enough to have some fun, and the foundation should be pretty sturdy bug-wise. It'll look something like:
PC only, maybe a Mac version if someone wants to try it, but I can't test for Mac
1-4 players locally, with 0-4 controllers supported
Add 1-3 AI opponents to the mix
Free for All or 2v2
Might be Soldiers-only battles for this first build
That'll be a nice start for getting feedback on the new controls and the gameplay tweaks I've made. Back to work!
2 responses to "January Update"