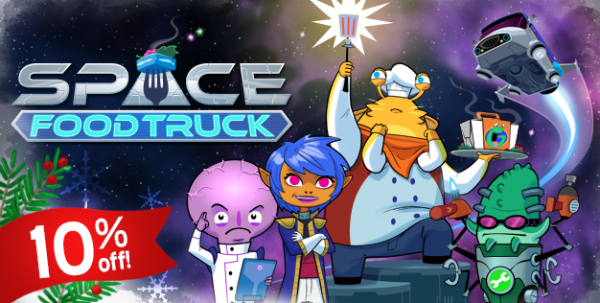 In addition to some further difficulty tweaks and bug fixes,
Space Food Truck Early Access
is getting 28 brand new achievements and eight Steam trading cards today! We're also dropping our price 10% for the Steam Holiday Sale (starting at 10am PST), so for those of you with family gatherings planned this week it's great time to get on board with our new co-op game. A lot has changed since the original Early Access release, so be sure to leave us some fresh feedback!
Gameplay
Test your skills against 28 new achievements.
Arrival events are slightly harder, giving less outs for the Engy.
Captain's Overdrive works differently: it now fills your FTL to the max capacity and lets you travel.
Ask Around is now in the starter deck for the Captain
Backtrack is moved from the Captain's starter deck to the lab
Fixes
Fixed text clipping issues with crises events in UI pop ups
Fixed bug where 'connect the dots' or 'not enough juice' errors would spring up when selecting 'done' during engage actions.
Fixed bug where dock/punch it buttons would disappear during 'Spacetime Flies' FTL Arrival events.
Fixed hitboxes for selecting crises during diplomabot and in the ship in general.
Improvements
Steam tradings card support has been added. Collect all 8 and craft your badges!
Added error message for Captain's Backtrack, so players can't add more than the 3 power needed.
You can click on flipped/researched nodes in lab to peek at the card in addition to hovering over them for some time.
Added more polished animation for trashing cards in resupply phase.